Throwing a birthday bash? Nice. After you wrap the presents, invite the guests, and decorate the house, there's only one thing left to do. Bake the cake! It's the centerpiece of any birthday party. Today we're rounding up ten gluten free birthday cakes. They are gorgeous AND delicious. Pick your fave and add it to your party planning list!
Funfetti cakes are an easy choice when it comes to celebrating a birthday. The colorful sprinkles inside the cake create a mini celebration on their own. This year, make a gluten free funfetti cake at home with this stunning recipe. It's quick, easy, and full of sprinkles that shout, "Happy Birthday!"
See recipe at whattheforkfoodblog.com
Cutting into this gluten free cake is a sure-fire way to impress the party guests. Layers of multi-colored cake are stacked on top of each other to create a beautiful rainbow slice. This recipe also has a hidden surprise: a sprinkle piñata! Cut a hole in one of the layers when stacking the cake and fill it with sugary sprinkles. When it's cut, the sprinkles will spill out for a birthday surprise!
See recipe at flippindelicious.com
Does the birthday boy or girl go nuts for coconuts? Then this is the cake for them. It's made with coconut milk, coconut oil, shredded coconut, toasted coconut, and filled with coconut custard! The coconut flavor is to die for. Best of all? It's a dairy free and gluten free cake!
See recipe at whattheforkfoodblog.com
Known as "the cousin of chocolate cake", red velvet always makes for a great birthday dessert. Especially this gluten free birthday cake recipe. The red cake comes out moist and flavorful, and the cream cheese frosting cannot be beat. Plus, the rose decoration is gorgeous. Serve this to special someone on their birthday!
See recipe at flippindelicious.com
Not one. Not two. Not three. But, FIVE layers of chocolate cake are in this gluten free dessert. It's rich with a chocolatey-fudge flavor. And it pairs perfectly with the sweet cream cheese frosting. Dye the frosting to match the colors of your party decorations and you'll have a seamless theme!
See recipe at fearlessdining.com
Cookies-n-cream is a timeless cake flavor. There's something about crumbled cookies that everyone can love. This year, celebrate someone special by making this birthday cake at home. The chocolate cake layers and cookie crumbles are completely gluten free. And the vanilla buttercream "cream" is ah-mazing.
See recipe at whattheforkfoodblog.com
This gluten free cake (or giant cookie?) is the best of both worlds. Three ginormous chocolate chip cookies are stacked together with sweet buttercream frosting in between. The cake turns out soft and chewy. And 3x more delicious than a single layer cake!
See recipe at flippindelicious.com
Remember eating Ding Dong cupcakes as a kid? Well now, you can eat them as a birthday cake! Two layers of moist chocolate cake are layered over light and fluffy cream. Then, everything is smothered with salted chocolate ganache. It doesn't get any better than this.
See recipe at mamagourmand.com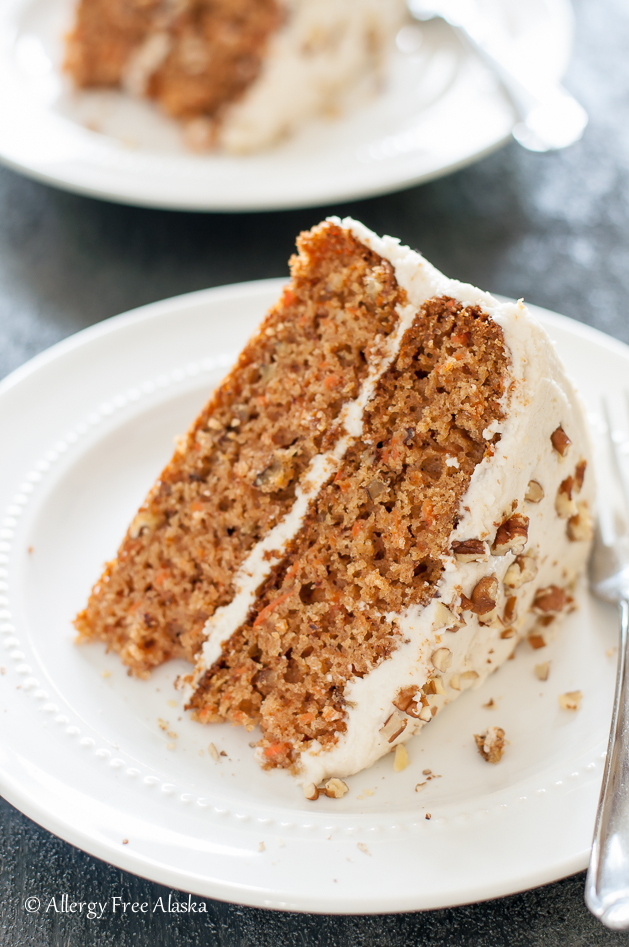 50% vegetable, 50% dessert. What could be better than carrot cake? Especially when it's coated with fluffy vanilla frosting. Make this classic birthday cake with a gluten-free, dairy-free twist. Just add candles!
See recipe at allergyfreealaska.com
Looking for something different than vanilla and chocolate cake this year? Try lemon layer cake. It's citrusy and lemony, with a great balance of sweet and tart flavors. And between each layer is a little lemon curd that pairs nicely with the cream cheese frosting. Best of all, it's gluten free!
See recipe at fearlessdining.com
Want more recipes?
Check out the following cookbooks for gluten free cakes. They can be delivered right to your door! What could be better than that?