These cheesecakes are supposedly single serving. But it's going to take some serious willpower to limit yourself to just one! Check out today's list of rich, creamy, and totally vegan cheesecake bites and bars. Enjoy flavors like lemon-blackberry, mocha, and the ever-famous strawberry cheesecake. Soak some cashews and get ready to make dairy-free cheesecake!
5 hours 30 minutes | 9 steps | 7 ingredients | Boil cashews 1 hour
Choose your own flavor with these 7 ingredient vegan cheesecake bites. The crust takes just two ingredients to make: dates and walnuts (or almonds). And the filling requires only five. When the filling is super smooth, add your flavor of choice! Try blueberries, almond butter, or caramel. They are all delicious, but feel free to experiment or even eat them plain.
See recipe at minimalistbaker.com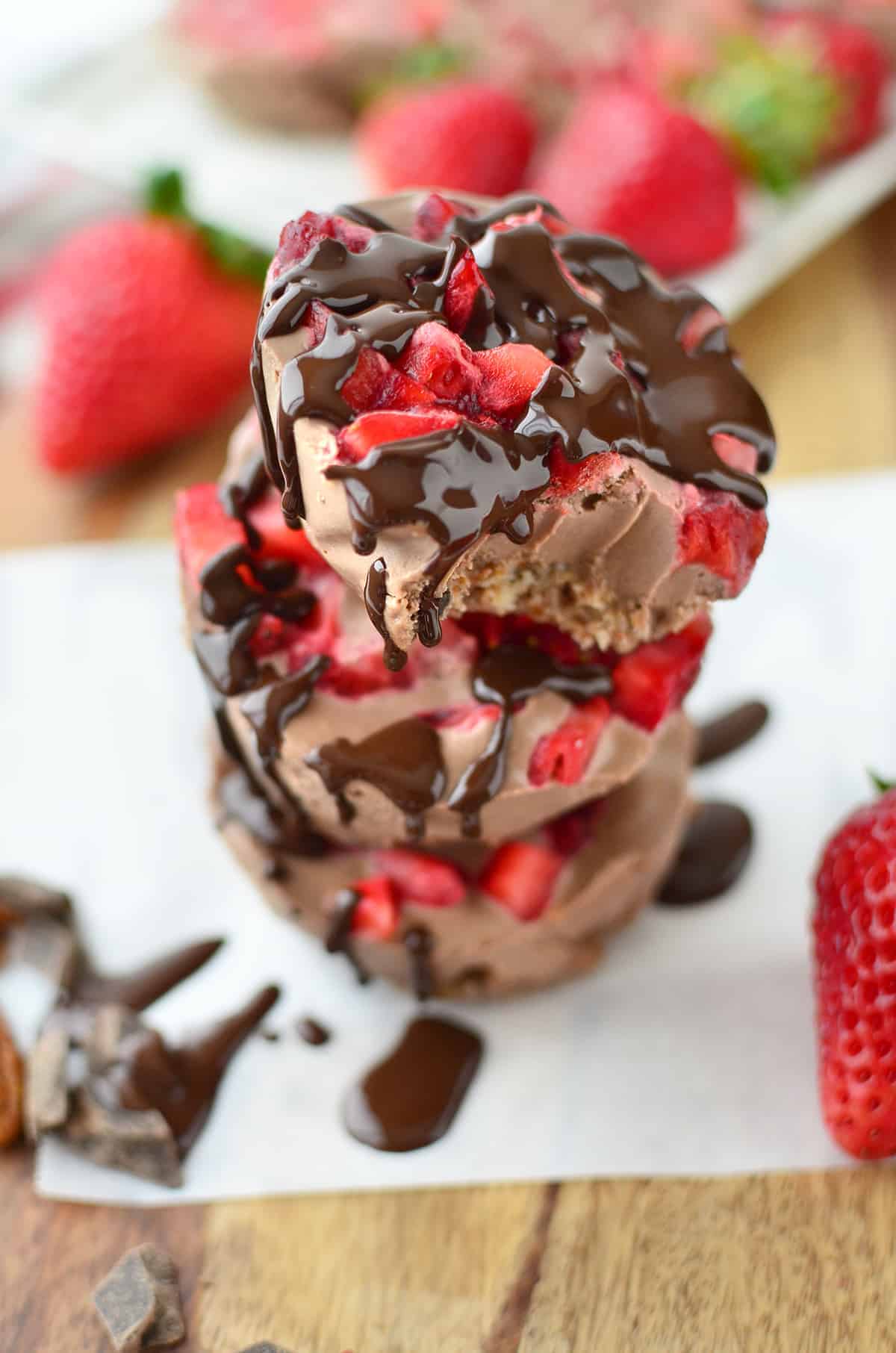 5 hours 15 minutes | 10 steps | 10 ingredients | Soak cashews 2 hours
This dairy free dessert is like a chocolate covered strawberry, but in vegan cheesecake form. Mix unsweetened cocoa powder with blended cashews for a rich chocolatey filling. Then, top with chopped strawberries and a drizzle of chocolate sauce. Enjoy with a glass of wine and a movie, or serve at the end of a fancy dinner.
See recipe at delishknowledge.com
6 hours | 5 steps | 10 ingredients | Pre-soak cashews 1 hour
These bites are spiced like a pumpkin pie, yet creamy like a cheesecake. Make yourself a batch of these cheesecake bites if you are in the mood for fall-time flavors. They are simple to make, rich, and creamy in texture. And not too sweet! The recipe makes 12 vegan cheesecake bites. It will definitely be a hit at your next party.
See recipe at theglowingfridge.com
5 hours 10 minutes | 4 steps | 8 ingredients | Pre-soak cashews 4 hours
These vegan cheesecake bites are beautiful both in look and flavor. The lemon-blackberry combination is the perfect balance of sweet and tart. And when paired with the creaminess of the cashew filling, they make for a wonderfully refreshing dessert. These little vegan cheesecakes are perfect for an afternoon tea or bridal shower.
See recipe at unconventionalbaker.com
4 hours 45 minutes | 7 steps | 9 ingredients | Soak cashews overnight
Enjoy three layers of deliciousness with these vegan cheesecake bites. Mocha filling on the top. A creamy and smooth vanilla middle. And a crunchy, chocolatey crust on the bottom. You'll be able to satisfy your craving for chocolate, coffee, and cheesecake all in one bite!
5 hours | 6 steps | 9 ingredients | Boil cashews 1 hour
If you like cookie dough ice cream, then you'll love this recipe. Little chunks of cookie dough are buried in a layer of silky-smooth vegan cheesecake filling. Whip up a batch of these bite-sized treats in about an hour, and set into the fridge (or freezer) to firm up. Wash it down with a glass of dairy-free milk.
4 hours 30 minutes | 19 steps | 8 ingredients | Boil cashews 1 hour
Sandwich a creamy, chocolatey cheesecake filling between two Oreo cookie layers. Crushed Oreos and vegan butter make up the bottom layer. While a rich, decadent chocolate filling makes up the center. Top with more crushed Oreos and you've got the perfect vegan cheesecake bites.
See recipe at lovingitvegan.com
9 hours | 19 steps | 11 ingredients | Soak cashews overnight
Roasted almonds give this vegan cheesecake a deliciously rich flavor. And when they are mixed in with the cashew cream it ends up tasting like cookies! Add that to a layer of salted medjool date caramel and you'll find that this is one of the tastiest cheesecakes you've ever had. Impress your guests with these vegan cheesecake bites this Easter holiday!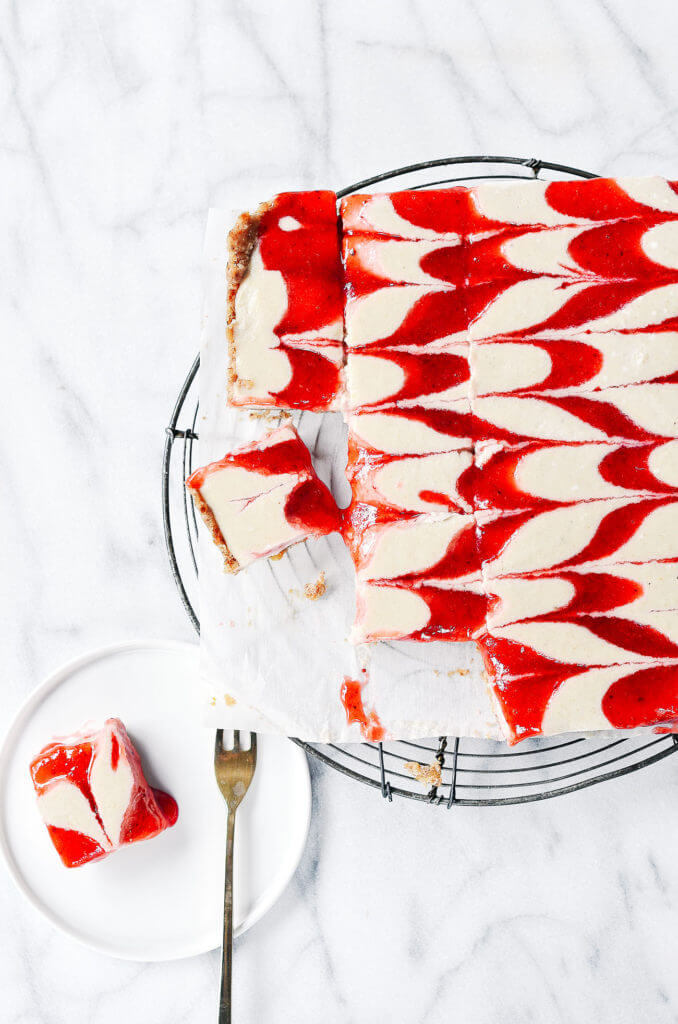 3 to 6 hours | 10 steps | 9 ingredients | Boil cashews 1 hour
Who doesn't love strawberry cheesecake? It's the perfect combination of sweet and tangy. These vegan cheesecake bars are super easy to make and check all the boxes on deliciousness. This recipe makes about 30 cheesecake bars – enough to share with the whole family and more!
See recipe at paleoglutenfree.com
7 hours | 3 steps | 7 ingredients | Soak cashews overnight
Raw, vegan, and totally delicious. Blend the strawberries with the soaked cashews in this vegan cheesecake bite recipe. The sweetness of the berries balances the tartness of the added lemon juice for a classic flavor. They come out the freezer ready to pick up and eat!
See recipe at mywholefoodlife.com
Want more recipes?
Check out the following cookbooks for vegan desserts. They can be delivered right to your door! Easy peasy.