Craving light and fluffy flapjacks, but want to avoid the gluten? Whip up a batch of Paleo pancakes this morning! Grain free and loaded with protein, these are breakfasts that you can feel good about eating. Today, we're bringing you 12 of the best Paleo pancakes that are full of delicious ingredients. Heat up the griddle, break out the spatula, and get ready to flip breakfast onto your plate.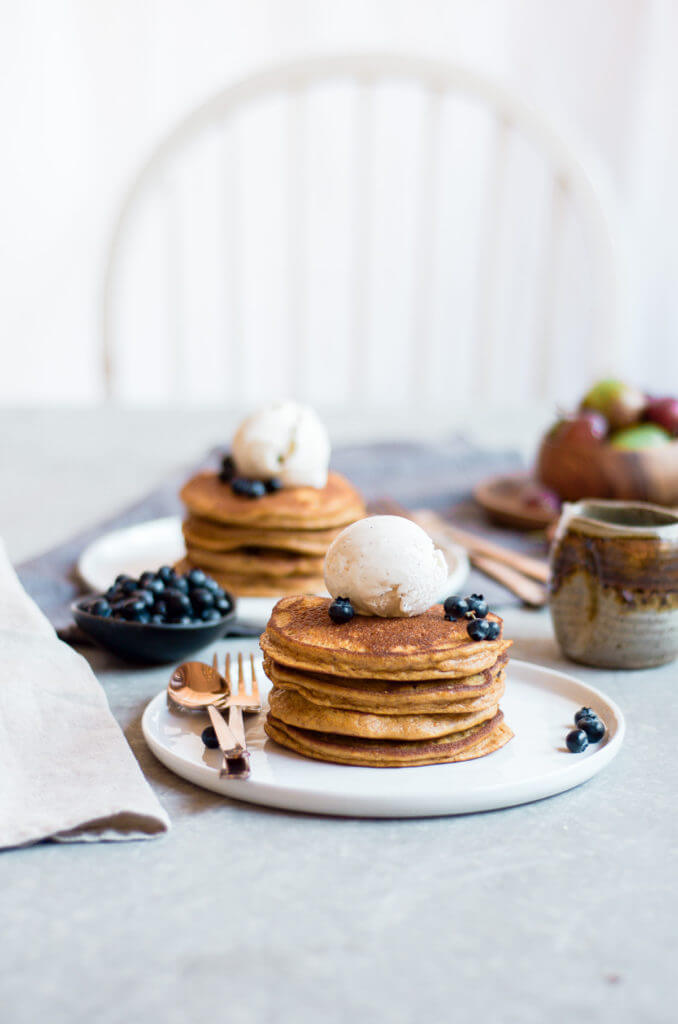 10 minutes | 5 steps | 15 ingredients
Light in texture and deliciously flavorful, these Paleo pancakes are a winner. Instead of grain flours, they are made using a blend of almond and arrowroot flour. And pumpkin and banana mixed into the batter gives them great fall flavor! Cook on the "Low" setting of your stove to ensure an evenly cooked pancake. You can make a batch of twelve Paleo pancakes in about 10 minutes!
See recipe at paleoglutenfree.com
15 minutes | 7 steps | 8 ingredients
These Paleo pancakes are light, fruity, and fresh. And they are really easy to make! Start with a base of almond and tapioca flour, then mix in the peach puree and eggs. Cook for 2-3 minutes a side and serve with fresh fruit and real maple syrup. Perfect for a summer-time breakfast!
See recipe at ahealthylifeforme.com
7 minutes | 3 steps | 3 ingredients | Requires blender
Do you have bananas, eggs, and almond butter in your kitchen? Try making these easy 3-ingredient Paleo pancakes. Simply add all your ingredients to a blender and blend until smooth. Avoid burning the pancakes by cooking on low heat for about two minutes on each side. Serve with a raspberry reduction or real maple syrup!
See recipe at paleoglutenfree.com
10 minutes | 3 steps | 9 ingredients
These Paleo pancakes come over the griddle hot, thick, and super fluffy. Perfect for dumping maple syrup all over. They're made with a base of coconut flour so they are grain free and 100% paleo! Plus, chocolate chips make them sweet.
See recipe at thebigmansworld.com
20 minutes | 6 steps | 7 ingredients
Serve up a stack of these almond flour Paleo pancakes for breakfast this morning. They are packed with protein and have a great nutty flavor. One batch makes about 9 pancakes, and they're ready in about 20 minutes start-to-finish. You'll leave the table feeling full and ready for the day!
See recipe at theroastedroot.net
35 minutes | 7 steps | 12+ ingredients | Requires blender
Sneak some greens into your morning meal with this colorful Paleo pancake recipe. Each batch contains two cups worth of spinach, and makes about 7-8 pancakes. Simply blend everything together in a blender and pour the batter onto a hot griddle. Instead of topping them with syrup, try macerated blueberries instead. YUM.
See recipe at downshiftology.com
20 minutes | 5 steps | 6 ingredients
No need for maple syrup on top of these Paleo pancakes. They come out sweet enough from the honey that gets mixed into the batter. They are super easy to make and only call for four main ingredients. Mix up a batch in just 5 minutes and you'll have enough for 6 medium pancakes. Top with fresh berries or whipped coconut cream!
See recipe at fitfoodiefinds.com
20 minutes | 5 steps | 6 ingredients
Applesauce in pancakes might sound strange, but trust us. They come out super moist, sweet, and delicious. Mix the applesauce with egg and almond flour (for body), and then spoon onto the griddle. Cook each side for 2-3 minutes or until golden brown!
See recipe at fitfoodiefinds.com
20 minutes | 6 steps | 11+ ingredients
If you don't have time to whip up a batch of cinnamon rolls, then definitely make these. Made from almond, arrowroot, and tapioca flours, these Paleo pancakes come off the grill light and fluffy. They taste fantastic plain, but you'll definitely want to top them with the cinnamon sugar syrup and the creamy icing!
See recipe at kelleyandcricket.com
35 minutes | 5 steps | 7 ingredients | Requires blender
Throw together a batch of these Paleo pancakes for a unique breakfast this morning. Toss a roasted sweet potato (or the canned version) into the blender with eggs, coconut flour, and almond milk. Then, blend on high until smooth. These pancakes will need about 15 minutes per side to cook, but it's worth it. They come out thick, chewy, and super delicious!
See recipe at skinnyfitalicious.com
25 minutes | 5 steps | 9 ingredients
The maca powder in this Paleo pancake recipe adds a sweet and earthy flavor that pairs great with the coconut flour. It's also super healthy for you! This recipe is really easy to make and makes the perfect amount of pancakes for one person. Just double, or triple up if you have more mouths to feed!
See recipe at nourisheveryday.com
Want easy Paleo pancakes?
Check out the following Paleo pancake mixes. They can be delivered right to you! So easy.