If you haven't tried a skillet cookie yet, then you need to jump on the bandwagon. ASAP. This epic dessert recipe is like a warm, gooey cookie. But 10 times larger. Resulting in one massive mega-cookie that should be eaten with a spoon rather than your hand. Whether you're craving a cookie with chocolate chunks, cinnamon apples, or coconut, we've got a recipe for you. And they are all gluten-free and paleo-friendly! So break out that cast iron pan (it's essential) and start baking one of these Paleo skillet cookie recipes.
30 minutes | 6 steps | 9 ingredients
This giant Paleo skillet cookie comes fully loaded with apples, pecans, and warm fall spices. Made in a deep dish cast iron pan, each slice of this Paleo cookie is thick and packed with flavor. The bottom and top become nice and crispy in the oven, while the center stays gooey and soft. The apple chunks in the dough come out tender and are perfectly balanced by the crunchy pecan pieces. Top with sautéed apples, dairy-free ice cream, or whipped coconut cream!
30 minutes | 3 steps | 7 ingredients
Swap out chocolate chips for fresh blueberries in this recipe. This Paleo skillet cookie is a cross between traditional cookies and berry cobbler. As the skillet cookie cooks in the oven, the blueberries soften and begin to blend with the cookie dough. The edges stay crisp but the center remains wonderfully gooey. You'll need a spoon to enjoy this one!
25 minutes | 5 steps | 7 ingredients
Take a spoonful of this Paleo skillet cookie and bite into chocolate-raspberry goodness. The massive chunks of chocolate melt inside the cookie to add a decadent richness. While whole raspberries balance out the favor with sweet tartness. This recipe uses almond flour and coconut sugar to make it 100% Paleo and gluten free. Top with a scoop of vanilla coconut ice cream and dig in!
30 minutes | 6 steps | 9 ingredients
This Paleo skillet cookie recipe tastes just like the Almond Joy candy. But in an ooey-gooey cookie-like form. Almond flour, almond butter, and toasted coconut shavings create a tropical richness. And when combined with chocolate, you end up with a dessert that is ultra-rich and decadent. Top with a scoop of dairy-free ice cream or coconut whipped cream. Finish by sprinkling with extra toasted coconut!
See recipe at foodfaithfitness.com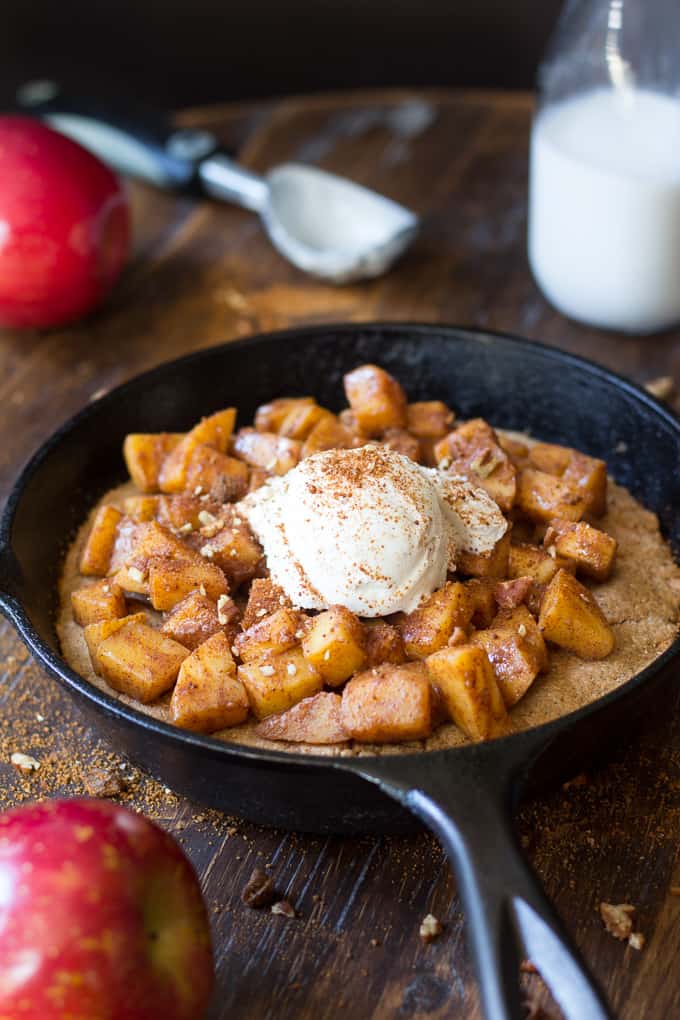 25 minutes | 8 steps | 12 ingredients
When was the last time you had a snickerdoodle cookie? You know… sweet and soft dough flavored with cinnamon-sugar? This recipe turn the classic snickerdoodle into a Paleo skillet cookie. Cooked in a cast iron skillet, this massive cookie comes out chewy, dense, and fudgey. Just the way your remembered. If you're looking for yummy toppings, then try a layer of apple-pie filling with a dollop of coconut whipped cream. AH-mazing.
See recipe at paleorunningmomma.com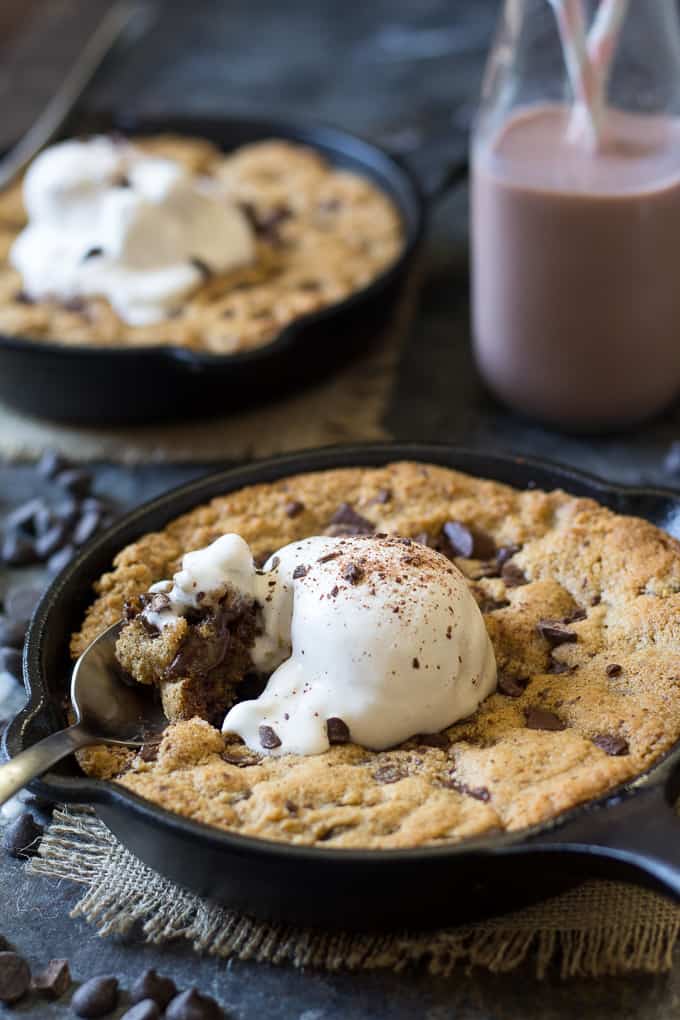 25 minutes | 7 steps | 6 ingredients
Press your Paleo chocolate-chunk cookie dough into your cast iron pan and make yourself a mega-cookie. We all know that the best part about chocolate chip cookies are the crispy edges and gooey centers. And with this Paleo skillet cookie recipe, you can bake a giant cookie that is just that. Break out a spoon and dig into a barely cooked, doughy center with an outer crispness. And with massive chunks of chocolate spread throughout, you can enjoy chocolate bliss over and over again.
See recipe at paleorunningmomma.com
30 minutes | 8 steps | 5 steps
Did you know you can bake without flour? Just substitute flour with nut-butter. This Paleo skillet cookie recipe is made with cashew butter. The result is a skillet cookie that has crispy edges and a seriously gooey center. The chocolate chunks spread throughout add a decadent richness to the dessert. And a sprinkling of sea salt flakes add a wonderful salty pop to eat bite. It's irresistible.