Let me guess, it's breakfast time and you need a Paleo-friendly recipe. Right? Whether you are in the mood for a frittata, smoothie bowl, sweet potato hash, or Eggs in Hell (what?), we've rounded up some of the best Paleo breakfast recipes from around the web. You'll be using simple ingredients, and the meals can be made in 30 minutes or less. Score! Now you can eat well, get ready, and jumpstart your day in a hurry.
30 minutes | 5 steps | 10 ingredients
Eggs in Hell? What's that? We didn't know either until we found this incredible Paleo-friendly recipe. Eggs In Hell, or Eggs in Purgatory, is a twist on the traditional Israeli dish called "shakshuka". It's a delicious tomato-based egg recipe that will soon become a fan-favorite in your household. This recipe adds in crumbled Italian sausage which give it extra protein and a boost of flavor. With a pan-to-plate time of just 30 minutes, you can be out the door or have an incredible Paleo breakfast ready for guests in a flash.
30 minutes | 6 steps | 6 ingredients
Hash is a classic breakfast recipe that is always a quick and easy crowd pleaser. This Paleo-friendly version is ready in just under 30 minutes. And it will fill your belly with plenty of protein for the long day ahead (over 20 grams per serving!). Just quickly fry up some sausage and sweet potato, crack a couple eggs on top and this Paleo sweet potato hash is good to go! YUM.
See recipe at deliciousmeetshealthy.com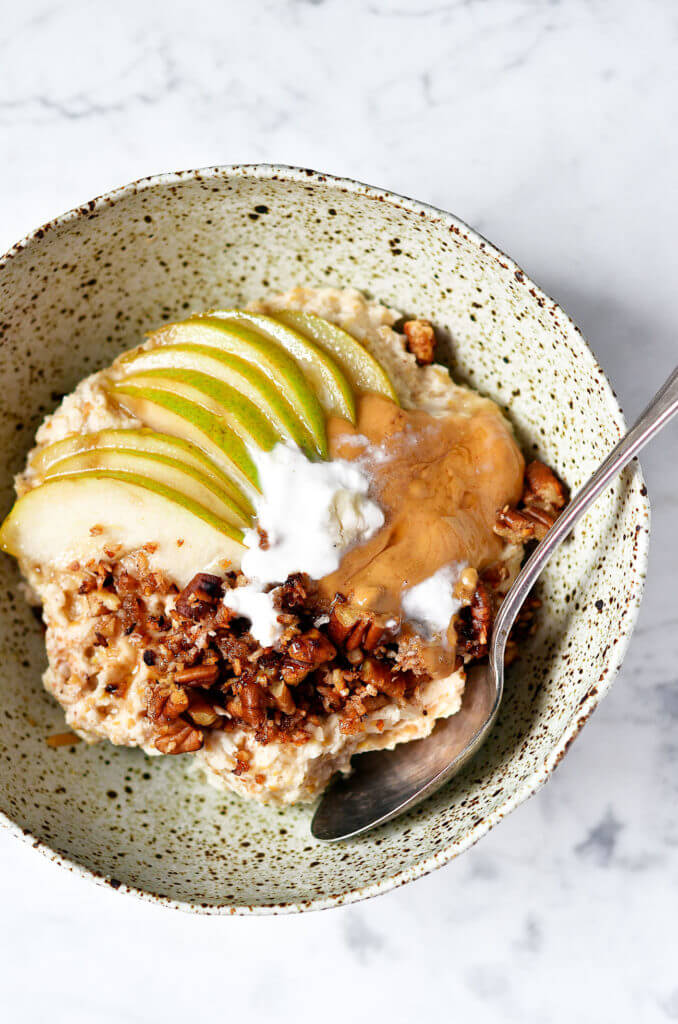 3 minutes | 3 steps | 7 ingredients
Coming in at #3 is a Paleo breakfast porridge that can be made in three minutes. Made from shredded coconut, almond flour, flax meal, and a little cinnamon and honey (for a touch of sweetness), this is a hearty bowl of goodness that will keep you satisfied well into your day. We encourage you to top it with chopped nuts, fruit, or almond butter to make it even more delicious!
See recipe at paleoglutenfree.com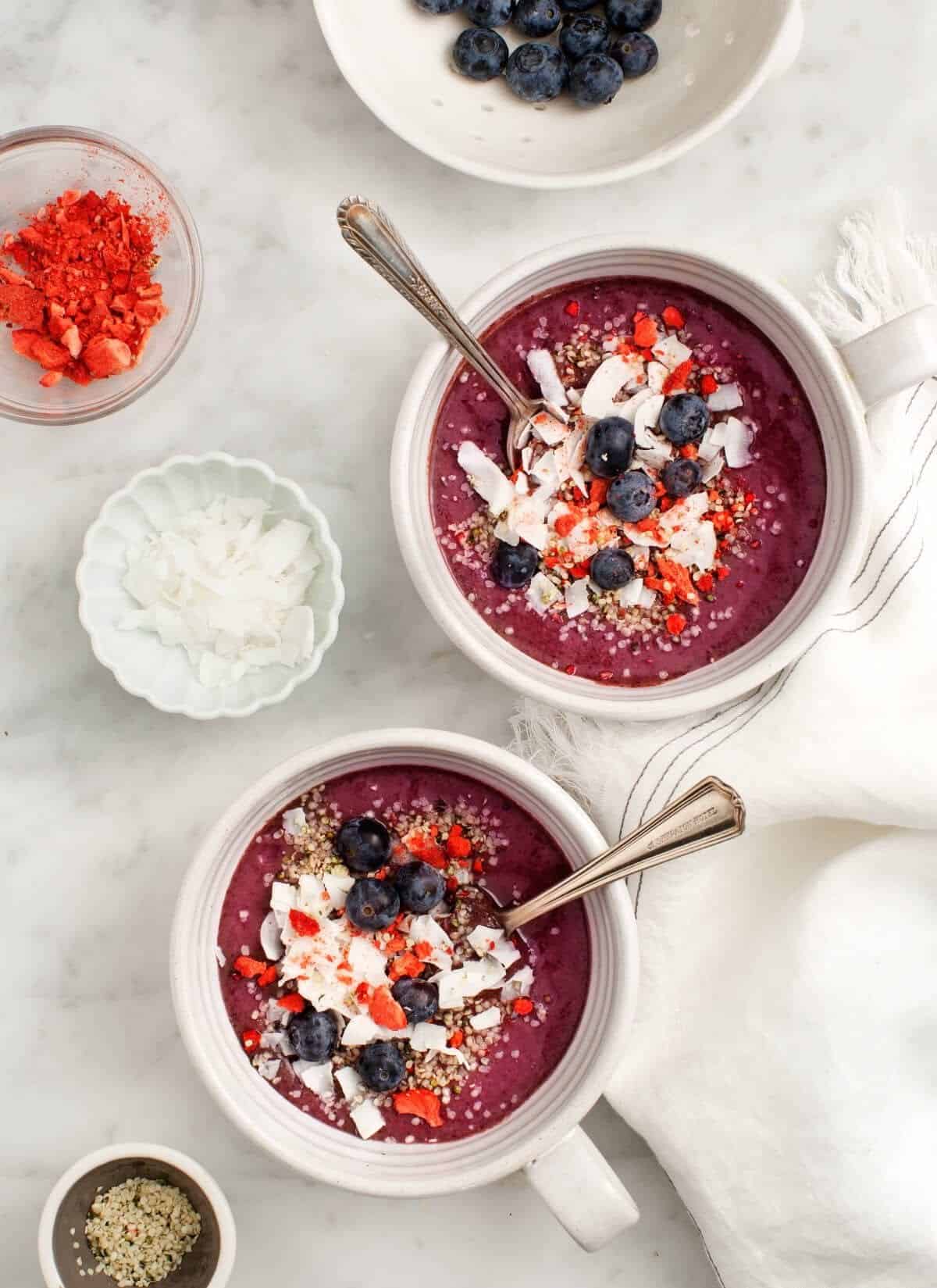 5 minutes | 2 steps | 5+ ingredients
Sticking with the breakfast-in-a-bowl trend, here is a fantastic Paleo smoothie bowl to jump-start your morning in a flash. Frozen berries and spinach make up the bulk of this bowl. And though they are "superfoods" by themselves, we recommend kicking it up a notch with a teaspoon of acai powder. It's loaded with nutrients and antioxidants that will have you feeling great!
See recipe at loveandlemons.com
5 minutes | 4 steps | 7 ingredients
Whip up a batch of these Paleo pancakes in just 5 minutes! That gives you an extra 25 minutes to enjoy them before rushing out the door. Made with egg, pureed pumpkin, and a little almond flour, these pancakes are super easy to make. Just whisk the ingredients together and pour onto a hot griddle. They're ready to flip when the bubbles pop! Serve with real maple syrup and enjoy.
See recipe at fitfoodiefinds.com
27 minutes | 5 steps | 2+ ingredients
Got some leftover veg from dinner the night before? Give it a quick whirr in the 'ol food processor and then shape the mixture into balls or patties. Pop those little hunks of veggie-love into the oven and you have a delicious (and nutritious) Paleo breakfast that is ready in less than a half-hour. And no, we still have no idea why they are called "bubble and squeak" cakes.
See recipe at wallflowerkitchen.com
10 minutes | 5 steps | 4+ ingredients
Frittatas are easily one of our favorite go-to recipes in the morning. And this Paleo frittata recipe is no exception. Ready in about 10 minutes, this is the perfect Paleo breakfast for that busy someone who wants to eat well in the morning, but not spend a lot of time preparing their food. Flip the broiler on high, beat some eggs in a bowl and add them to an oven-safe fry-pan with sautéed spinach and tomato. Put the pan under the broiler until the egg is set and, voilá!
20 minutes | 7 steps | 10 ingredients
For the perfect grab-n-go breakfast, make sure you make a batch of these incredible Paleo protein breakfast bars. Packed with nuts and seeds (and a little dried fruit), they make a filling and protein rich breakfast. Making these in the morning? They'll be ready in about 15 minutes. Just make sure you let them cool a little before cutting them up! It's a super easy Paleo breakfast.
See recipe at wallflowerkitchen.com
18 minutes | 7 steps | 5 ingredients
This quick and easy Paleo breakfast is packed with protein and flavor. In each cup is a one whole egg, strip of crispy bacon, and serving of veggies. Make these in under 20 minutes, or make them the night before. They warm up great! Grab one or two as you are heading out the door for a perfect hand-held Paleo breakfast.
See recipe at ahealthylifeforme.com
Want more recipes?
Check out the following cookbooks for Paleo breakfast. They can be delivered right to your door! Simple.