Craving cookie bars? Us too. In fact, we're always craving cookies. But sometimes we don't want to eat all the junk that's in them. (We're looking at you, wheat flour). If you're on the hunt for a Paleo-friendly recipe, then you're in the right place. We've rounded up some of the best Paleo cookie bars around the web. They come out of the oven thick and absurdly delicious. Scroll down and start preheating your oven!
2 hours | 5 steps | 10 ingredients
Transport yourself back to childhood with a bite of these Paleo "Magic Cookie" bars. This Paleo adaptation swaps condensed milk for sweetened coconut milk, trades nuts for graham cracker in the crust, and subs extra chocolate where butterscotch chips would be. And you'll appreciate the difference because they are so dang GOOD.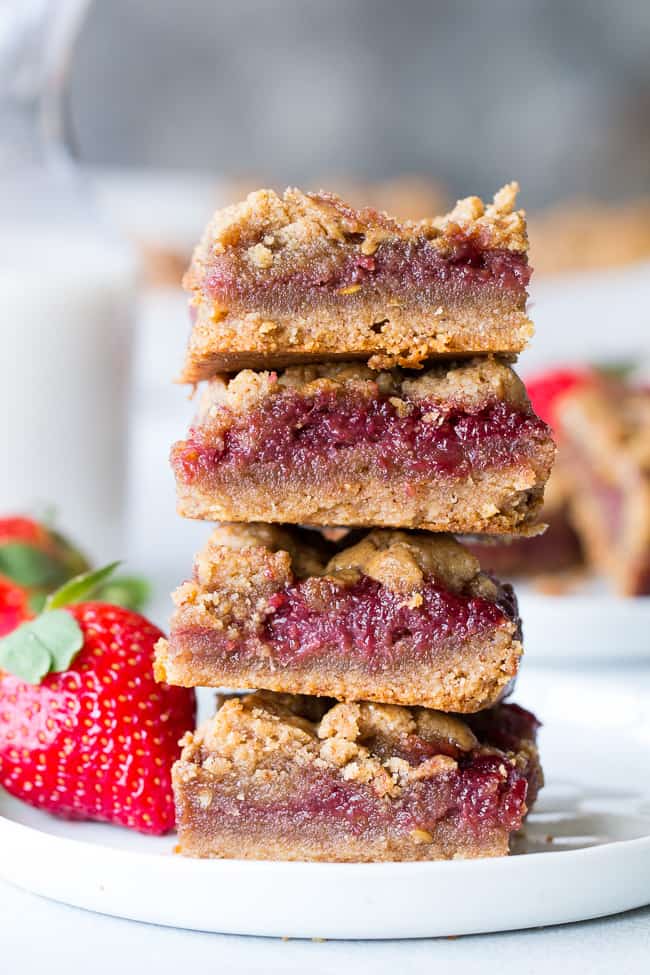 1 hour 10 minutes | 8 steps | 8 ingredients
It's almond butter and jelly time! Whip up a batch of these Paleo cookie bars and experience a sweet and salty treat. Almond butter is mixed into the crust, while fresh strawberry jelly makes up the middle layer. Spread some almond butter over the jelly before baking. Chill and serve!
See recipe at paleorunningmomma.com
40 minutes | 7 steps | 8 ingredients
Did you miss the Girl Scouts this year? Or did you run out of cookies already? Either way, these Samoa Paleo cookie bars are for you. A thick coconut-flour shortbread crust forms the bottom layer. While an equally thick coconut-caramel layer lays on top of them. Don't forget to dip and then drizzle with chocolate before serving!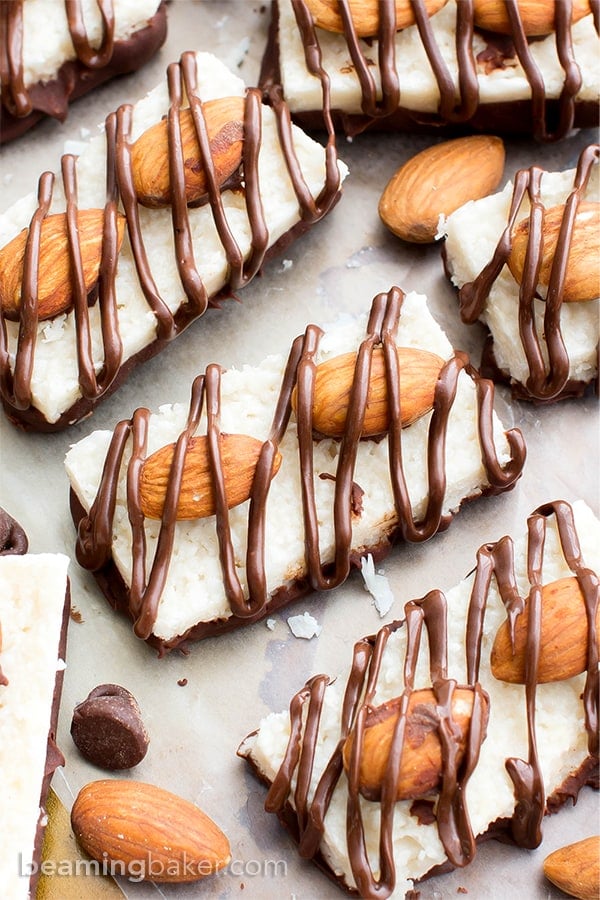 1 hour 30 minutes | 10 steps | 5 ingredients
Make these Paleo cookie bars at home and enjoy the flavors of Almond Joy candy whenever you want. Requiring just 5 minutes of prep time, they are easy to make. It's a coconut and chocolate paradise. Also, they are very low in sugar – so you don't have to feel bad about enjoying them!
See recipe at beamingbaker.com
1 hour 10 minutes | 14 steps | 8 ingredients | Overnight in fridge
Smooth, decadent chocolate, and a burst of fresh strawberry flavor. Take your Magic Cookie bars to the next level with this Paleo cookie bar recipe. A sweet strawberry swirl layer follows a condensed coconut milk layer. Which follows a gooey chocolate layer. Which follows a crunchy, chocolatey nut-crust layer at the bottom. Needless to say, these are incredibly rich and seriously delicious.
See recipe at foodfaithfitness.com
1 hour | 11 steps | 8 ingredients | Overnight in fridge
These Paleo cookie bars are the ultimate fall-time treat. This recipe is another take on the classic "Magic Cookie" bar. There's spiced pumpkin, melted chocolate, toasted pecans, maple-flavored coconut milk, and a crunchy coconut crust. It's an explosion of fall with every bite which will definitely have you reaching for a second bar.
See recipe at foodfaithfitness.com
55 minutes | 10 steps | 8 ingredients
Take a vacation from boring desserts with these tropical Paleo cookie bars. With a filling made from fresh (or canned) pineapple and coconut flakes, each bite tastes like a piña colada. Bake until the coconut flakes are crispy and turn golden brown. Then, chill before cutting and serving.
See recipe at soufflesandsawdust.com
40 minutes | 5 steps | 12 ingredients | Eat immediately
Thick, chewy, and loaded with chocolate. These Paleo cookie bars are sinfully good. But, the best part? You can be chowing down on these goodies in less than 45 minutes! That's right. No freezing or chilling required. Load the batter with chocolate chips or chunks, sprinkle the top with sea salt, bake and serve.
See recipe at whatmollymade.com
Want easy Paleo desserts?
Check out the following Paleo baking mixes. They can be delivered right to your door! Paleo made easy.