Looking for a dessert that fits in your diet? Today we are rounding up our favorite vegan, gluten free cheesecake recipes. Some of the flavors include strawberry, pumpkin, chocolate, and more. Yum! No matter what you're craving, we've found a delectable cheesecake just for you. Read on and choose your favorite.
Leave your raw and frozen cheesecakes in the refrigerator. This baked vegan cheesecake tastes just like the real thing. It's creamy, rich, and slightly tangy. It's also easy to make – only requires a blender! If you love a big slice of New York style cheesecake, then definitely give this recipe a try. Just make sure you prepare it a day in advance, because it needs at least 5-6 hours to refrigerate.
See recipe at minimalistbaker.com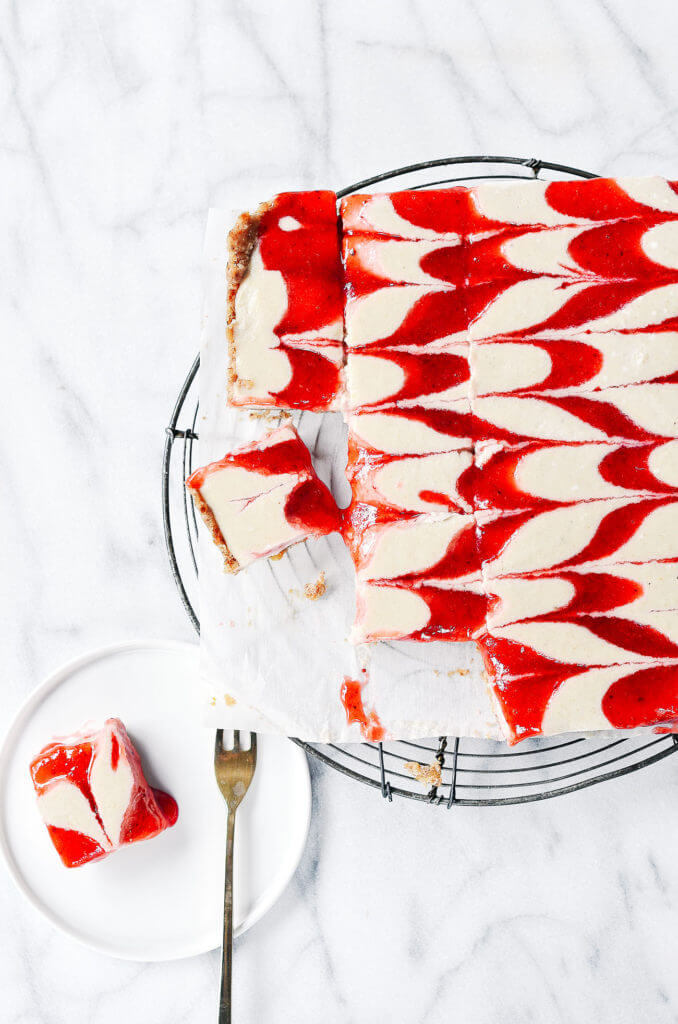 This recipe creates a vegan gluten free cheesecake that is rich and soft. With a super creamy texture and tangy flavor, it's a definite crowd pleaser. It also doesn't need baking! Cut this cheesecake up and serve. Your non-vegan friends won't even know the difference. This recipe only takes 10-15 minutes to prepare, but it does need to set in the freezer for 3-5 hours.
See recipe at paleoglutenfree.com
Sometimes you crave a Snickers. Sometimes you crave cheesecake. With this recipe, you can have both. It's a chocolate, peanut, and caramel masterpiece. It's also 100% vegan and gluten free. And 110% delicious! Whip up a batch of this vegan gluten free cheesecake and make your taste buds happy. If you have leftovers, then throw them in the freezer. They'll last for 3 weeks!
See recipe at minimalistbaker.com
This recipe is a hybrid between pumpkin pie and baked cheesecake. It's perfect for a fall dinner party or Thanksgiving dessert. It's custardy, sweet, and spiced just enough. The best part? It's totally vegan and gluten free. This recipe will have you guests reaching for a second slice. Just make sure you bake it one day ahead of time, because the cheesecake needs to be refrigerated for at least 6 hours.
See recipe at minimalistbaker.com
Have a bag of dried figs lying around? Then this is the recipe for you. Made from figs and soaked cashews, this cheesecake is vegan and gluten free. But don't worry if you don't have any dried figs. A dozen medjool dates will also do the trick! To prepare this recipe, blend your ingredients up in a blender and pour into a cake tin to set in the freezer. Then, slice and serve!
Here's another great recipe for fall-time festivities. It's full of pumpkin, spice, and chocolate. Since this is a vegan recipe, use soaked cashews instead of cream cheese. Once everything is blended together, pop it into the refrigerator to set. And don't forget the marbling of the chocolate on top – it really amps up the presentation! Your guests will be impressed.
See recipe at jessiskitchen.com
Peanut butter, chocolate, and cheesecake? Yes, please. This vegan gluten free cheesecake recipe is perfect for someone obsessed with peanut butter and chocolate. But, let's be real… who isn't? This recipe is smooth and creamy, yet sweet and salty. You make your own peanut butter cups too! And don't be scared off by the number of ingredients. It's easier than it looks!
See recipe at ahouseinthehills.com
The sweet tartness of fresh picked rhubarb stands out in this vegan gluten free cheesecake recipe. Cut your rhubarb into chunks and add to a saucepan to create the topping. Spoon out the rhubarb and spread over the cheesecake after it has completely set. Cut and serve! It's garden fresh and ends up looking super cute.
See recipe at ahouseinthehills.com
Want more recipes?
Check out the following cookbooks for vegan gluten free desserts. They can be delivered right to you! Perfection.